Healthy Headspace Series – Positive personal change in times of uncertainty
June 19, 2020 @ 7:00 pm

-

8:30 pm
Right now it's more important than ever to care for not just your physical health, but also your mental wellbeing.
We've tapped into our abundant local talent of health and wellness experts to create this Healthy Headspace Series. Designed to introduce you to different approaches and techniques, each event allows you to take a moment for yourself and enhance and support your mental well-being.
For the second in the series, we're thrilled to be bringing you Irene Nash, Wellness Practitioner. Qualified Nurse, QTT/NLP & IET practitioner and founder of The Willow Circle.
Creating Positive Personal Change in Times of Uncertainty
This webinar will focus on the body-mind connection and is intended to support you as we transition out of the current crisis of COVID -19 emerging into a different world, meaning a different way of living.
Learn how the power of our mind, our thoughts, and our emotions impact our behaviours. Knowledge is power and understanding this connection can free you from limiting thoughts and patterns.
Irene will show you through simple steps how you can change your state of mind, taking back control, enabling you to self regulate, feel calm, focused, and reduce stress.
She will also guide you through a heart focused exercise. This exercise facilitates cognitive function and reinforces positive feelings and emotional stability. This means that learning to generate increased heart rhythm coherence, by sustaining positive emotions, not only benefits the entire body, but also profoundly affects how we perceive, think, feel, and perform.
What do I need to be able to take part? :
This is event will be hosted on Zoom in a Webinar format, so your camera and microphone will be automatically switched off when you join, you can submit any questions to the speaker through the Q&A section live during the event. – While this event will be recorded, it is best experienced live as only a section of the recording will be made available for viewing after.
Ensure you find a quiet and calm space to relax and take in the information presented in the webinar.
Comfy clothes, a journal and a blanket to hand for the heart excercise.
Thank you Elin and KBN for this opportunity and I am very much looking forward to connect with you all,
Warmest wishes, Irene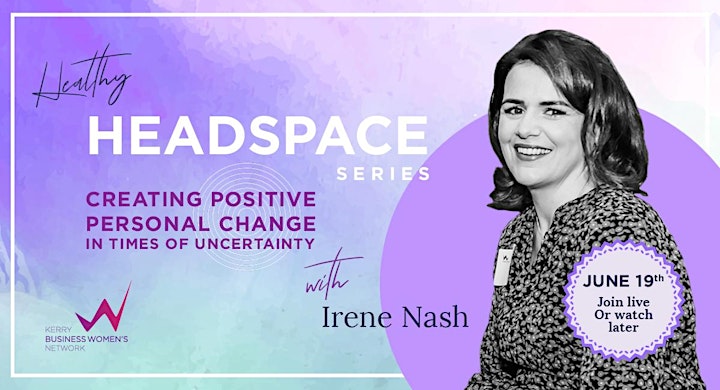 About Irene
Irene Nash is a Wellness Practitioner.
Qualified Nurse, QTT/NLP & IET practitioner., and founder of the Willow Circle was created to promote wellness in the 3 fundamental areas of wellness – Mind, Body, and Soul.
She is passionate about promoting and empowering others to be the best version of themselves.
Assisting those who wish to positivity change by clients with a toolkit of techniques, methods, and processes for dealing with life's challenges as well as optimising life's opportunities.
She runs a private practice seeing clients one to one, online and also run workshops and wellness talks.
To find out more or book a call:
Stress Relief and Relaxation Therapy – Killarney – The Willow Circle