Healthy Headspace Series – How to build resilience using CBT
July 8, 2020 @ 7:00 pm

-

August 16, 2020 @ 8:30 pm

Free
An introduction to Cognitive Behavioral Therapy, as a way to assist you in managing problems and building resilience
We've tapped into our abundant local talent of health and wellness experts to create this Healthy Headspace Series. Designed to introduce you to different approaches and techniques, each event allows you to take a moment for yourself and enhance and support your mental well-being.
For the third in our Healthy Mindset Series, we're thrilled to be bringing you, Caroline Corkery. Caroline is a qualified Psychotherapist (MA) based in Tralee, is self-employed, and runs a range of counseling services in County Kerry through her practice Live Your Life Today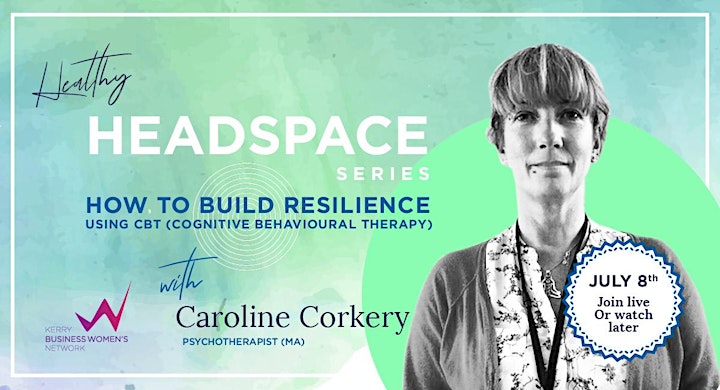 How to Build Resilience Using Cognitive Behavioural Therapy
We all know resilience is an important trait.
It is the hallmark of successful people and successful companies, and it is what allows people to come back from disappointment and failure stronger and more determined than ever.
What you may not have known is that resilience is not a permanent trait, one that you are either lucky enough to be born with or unlucky enough to be lacking. Resilience can be developed in people of all ages, and luckily there are many methods that can be applied to do it.
In this session, Caroline will give you an introduction to CBT (Cognitive Behavioural Therapy), and show you ways in which you can use it to improve your resilience. She will look at the different types of thinking and how it affects our overall being, and at ways to challenge unhealthy patterns of thinking.
This session will be run in Webinar format, so you can sit back and listen, there will also be plenty of time for Q&A where Caroline will answer your queries live.
What is needed?
A free Zoom account
A quiet space, where you won't be distracted or interrupted.
Pen and paper for making notes
An open mind and a willingness to give it a go, even if you are new to CBT!